Bulk Rack Storage Add-on unit with Steel Decking
Estimated manufacturing lead time 3 - 6 weeks
Add on bulk rack storage units with steel decking conveniently expand the storage area of manually handled goods.
Details
Set up your own medium-duty shelf with additional units
Bulk rack storage add-on units with steel decking are an ideal solution for medium duty loads, which are manually handled. The system includes a wide range of variations that allow you to custom configure your bulk rack storage racks.
Advantages
Configure the shelves to suit you by joining all the units you need together.
Ability to add additional levels, height-adjustable every 2''.
These shelves are especially suitable for storing medium and heavy loads manually.
Cost savings in expanding your medium-duty bulk rack storage units.
Easy assembly and highly mobile.
Available in a wide variety of heights, widths, and depths to adapt to the original shelf.
Galvanized steel decking offer a sturdy, solid surface to store hand-picked products
Product applications
Bulk storage racks are the perfect solution for garage or warehouses that need to store spare parts, totes, or any medium duty load.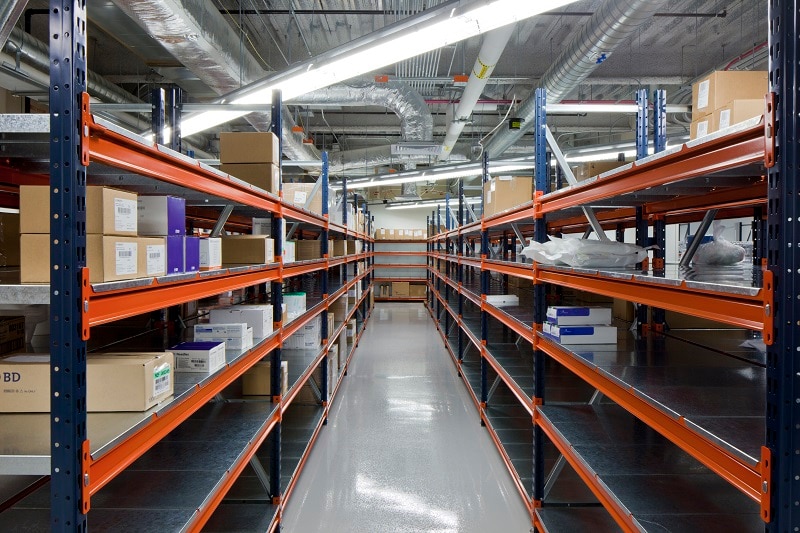 Unit Includes:
1 each – Assembled, blue bolted bulk rack frames made from 16 GA steel
3 each – Bulk rack "Z" beam load levels made from 14 GA steel (Safety pins included)
22 GA Galvanized steel decking. Depending on the width of the bulk rack storage unit

4 each - 48" wide load levels
5 each - 60" wide load levels
6 each - 72" wide load levels
7 each - 84" wide load levels
8 each - 96" wide load levels
Features
Assembled, blue bolted, bulk rack frame

2" shelf level adjustments
1-15/16" x 2-1/32" wide column
Footplates allow anchoring to the floor

Orange, bulk rack load levels

"Z" shaped profile
Safety pins that allow secure placement to avoid accidental disengagement

Cataphoresis painting process. Long lasting paint finish with anti-corrosion
For non-seismic areas only
RMI (Rack Manufacturers Institute) Certified
Shipping and Handling
The bulk rack storage beam pair is eligible for a standard freight carrier's lift gate on select items for an additional charge. Please see our Shipping Information page for additional details
More Information
More Information

| | |
| --- | --- |
| Delivery term | Estimated manufacturing lead time 3 - 6 weeks |
| Height | 120 '', 144 '', 72 '', 84 '', 96 '' |
| Width | 48 '', 60 '', 72 '', 84 '', 96 '' |
| Depth | 24 '', 30 '', 36 '' |
| Max shelf weight | 1,975 lbs, 2,200 lbs, 2,500 lbs, 1.425 lbs |
| Material | Agglomerate, Metal |
| Used for | Storage, Heavy loads |
| Location | Warehouse, Factory, Workshop |
| Product layout | 3 levels |
Assembly instructions
Bulk Rack Storage Add-on unit with Steel Decking
Consult and download for free assembly instructions manual in PDF format: