Teardrop pallet rack component guide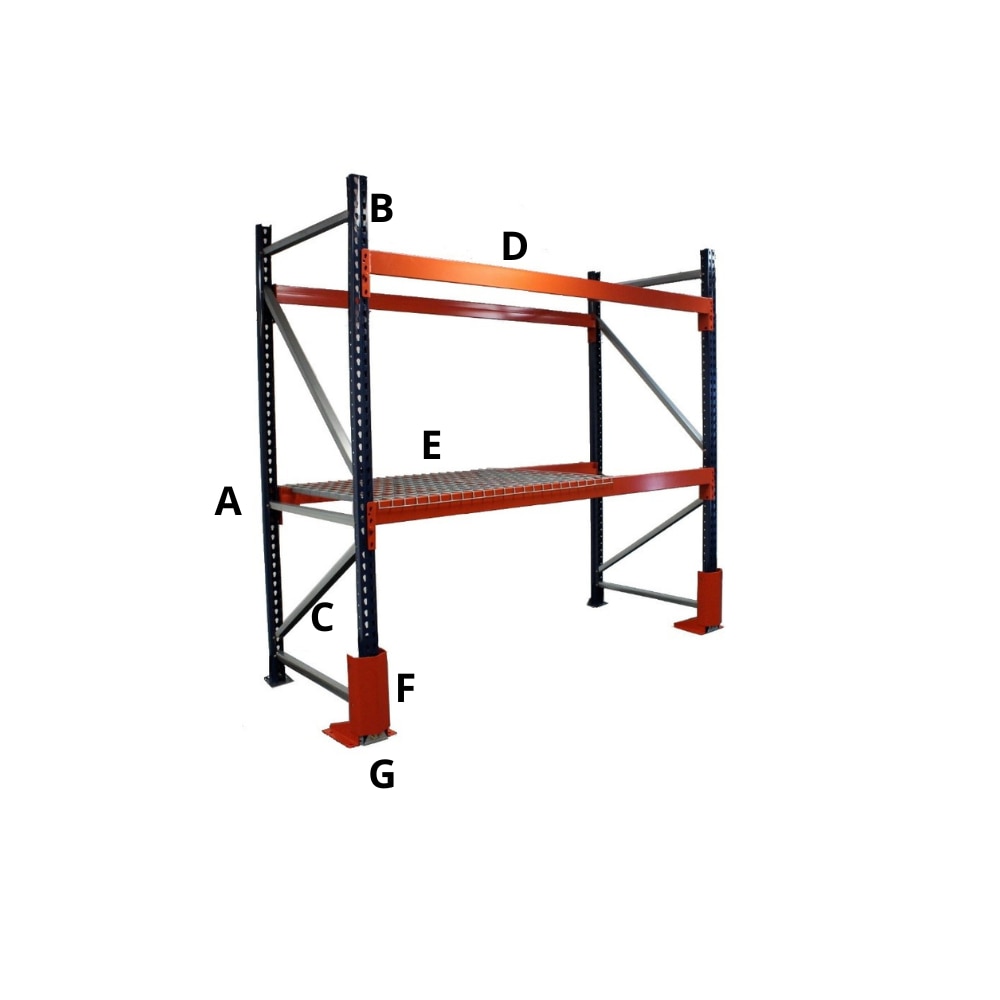 a. Vertical element of the pallet rack system

i. Height and depth of the pallet rack system

B. Teardrop Posts

a. Posts are connected by a series of struts and foot plates

C. Struts

a. The horizontal and diagonal struts connect the teardrop posts together to create the teardrop pallet rack upright

D. Teardrop Pallet Rack Beams

a. Horizontal element of the pallet rack system

Width of the pallet rack system connected to uprights

E. Wire Mesh Deck

a. Deck surface to allow storage of irregular loads / hand-stacked items

F. Column Protector

a. Add protection to pallet rack upright frames against possible impacts from forklifts

G. Foot Plate

a. Anchor bolts are used to secure the pallet rack to the floor.
How to buy a pallet racking unit?
First thing you will need to know is the weight capacity of the pallet rack bay that you need. You will need to add the total weight of all the pallets for each bay (not including the pallets on the floor).
48" pallets are the recommended pallet size to use with our pallet rack shelving units of 42" depth. Pallets should overhang by approximately 3" both in the front and back.
Next, you will need to figure out the height of the bay. To do this, you will need to measure the height of all pallets, pallet load, and beam face height. Add a forklift clearance of 4" between the top of the pallet load and the bottom of the above beam.
To figure out the correct beam length, measure the width of the pallets. Add a 3" minimum from the pallet to the upright frame for clearance and 4" minimum between pallets. Each beam pair must support the weight of pallets per level.
Finally, to determine the overall length of the starter bay, add an additional 6" in width.
For additional information, please contact our Shelving Direct customer service representatives can assist you with your warehouse shelving needs.