Ground Shipping
All orders under 50 lbs ship via ground (exception: Warehouse Storage frames). Ground shipments are usually via a carrier like FedEx or UPS. These shipments will deliver to the ship to address provided. If no one is available when delivered, package will be left at residence.
*Note: Order may be shipped in multiple packages*
LTL (less than truckload) Freight Shipping
All orders over 150 lbs are bundled using shrink wrap banded on pallets. Shelving Direct solicits various LTL shipping companies to ship orders via a commercial semi truck. Some freight shipments require authorization/additional fees to ensure successful delivery.
A description of the freight services are below. If no additional services are requested order will ship with standard requirements. Order will have to be removed from truck at end destination by customer.
Notify before delivery
The freight trucking company will call to coordinate delivery time, which is typically a four hour window. The order will not deliver without an appointment.
No additional fee
Residential delivery
When delivering to residence it is required that the shipment be placed on a smaller commercial truck to maneuver through the neighborhoods. As a result, trucking companies require an additional fee and notification of a residential area. The Residential Delivery charge is required on all home delivery addresses. Please note Residential Delivery does not include Lift Gate service.
Additional fee: $90
Lift gate
Drivers are responsible for bringing the pallet(s) to the back end of the truck. Lift gate brings the material to ground level to ease the delivery process. Please note that any material 84 inches or longer cannot utilize lift gate as trucks with lift gates have width and weight restrictions.
Additional fee: $60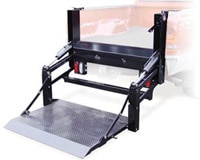 Customer Pick up
Shelving Direct offers a customer pick up option free of charge for orders that are placed from our Melrose Park, IL location. A representative will reach out to the customer once the order is ready for pick up. Pick up information will be relayed to the customer before pick up.