Pallet Rack Wire Decking Add-on Unit
Estimated manufacturing lead time 1 - 8 weeks
Pallet rack add-on units with wire mesh decking allow you to increase shelving capacity by adding as many new base units as needed, with the same quality but at a lower cost.
Details
Conveniently increase the capacity of your pallet racking with add-on units with wire decking
Pallet rack add-on units with wire mesh decking come in various heights and depths to suit the original unit. Each unit consists of a single frame, as it is connected to the upright frame of the existing system, and two or three load levels depending on the height. Pallet rack wire decking is ideal for fire safety measures by allowing water to flow through the open grids of the wire decking. With its quick and easy installation, the pallet rack wire mesh decking drops perfectly into place within the pallet rack beams.
Advantages
Heavy-duty shelves are an affordable way to streamline handling of product.
Easily extend your heavy-duty shelf with additional units with wire mesh decking.
Highly durable: load capacity per wire mesh deck of 2,500 lbs.
The shelves are adjustable in height every 2"
Wire mesh decking offers safety measures with an open grid surface to store palletized products.
Wide variety of accessories available to suit your pallet rack shelving needs.
Product Applications
Pallet rack shelving units are the ideal solutions for warehouses that need to store wood pallets.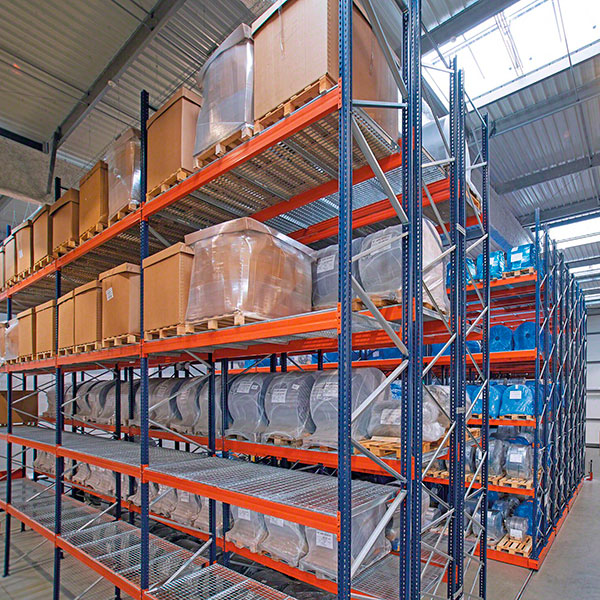 Unit includes:
1 each – Assembled, blue bolted teardrop upright frames

Pallet rack beam load levels

2 each – Load levels for bays as high as 144"
3 each – Load levels for bays 192" – 240" high

Galvanized wire decking

2 each - per 96" wide load levels
3 each - per 144" wide load levels
Things to Consider When Ordering:
The size and weight of the pallet

Standard GMA pallet size is 40" x 48"

Height clearances in order to lift the pallet load off the beam shelf level
Forklift height reach
Clearance between pallets and posts
Each pallet should be positioned 3" or 4" from any adjacent post or pallet, unless the bay has a 3 pallet width. In this case, a 5" clearance should be providen between pallets and 4" between post and pallet.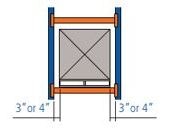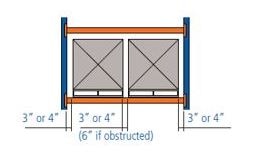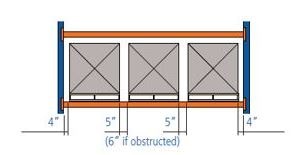 The distance from the top of the pallet load overhead is 4" to 6". The pallet must extend 3" beyond the frame depth on either side to ensure proper pallet support.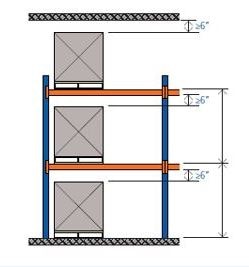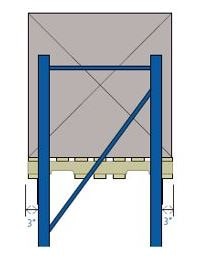 Features:
Blue assembled, bolted, teardop upright frame

2" shelf level adjustments
3" wide columns
15 GA steel for heights of 96", 120" and 144"
14 GA steel for heights of 192" and 240"
Footplates allow anchoring to the ground

Orange, teardrop pallet step beams

Piston lock connectors
Non-slotted
16 GA steel
Roll-formed

Cataphoresis painting process. Long lasting paint finish with anti-corrosion
Galvanized wire decking


6 GA wire
14 GA channels
2,500 lbs weight capacity per deck with evenly distributed loads

For non-seismic areas only
RMI (Rack Manufacturers Institute) Certified
Shipping and Handling
The pallet rack wire decking add-on unit will not fit on a standard freight carrier's liftgate. This product must be removed off of the freight carrier's truck with a forklift.
The best choice for heavy loads
Pallet Rack Shelving is an ideal solution for storing heavy loads with a load capacity of up to 2,500 lbs per level. This economical and versatile loading system allows you to have direct access to each pallet load.
More Information
More Information

| | |
| --- | --- |
| Delivery term | Estimated manufacturing lead time 1 - 8 weeks |